European Symposium on Research in Architecture and Urban Design: In Between Scales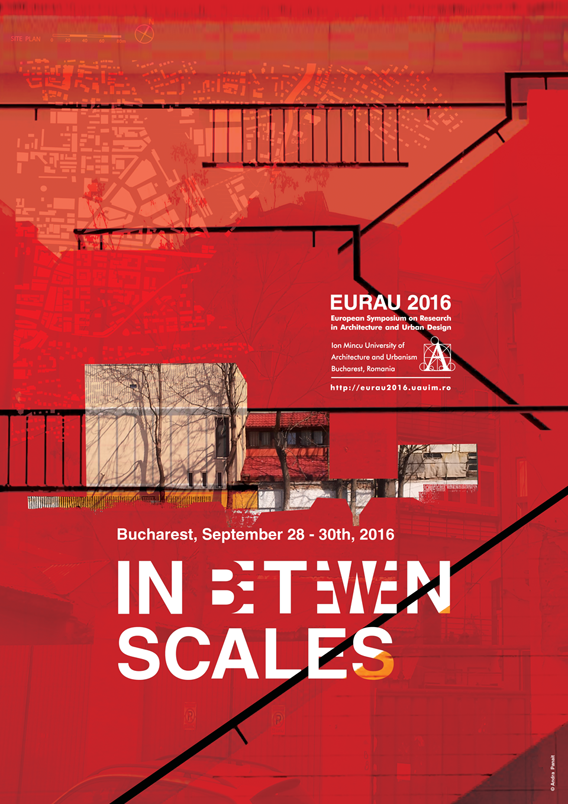 June 12 update:
Due to authors' requests, the final term of sending the full article(s) is extending until 17th July 2016 (midnight, Eastern Europe time).
Every author who have not received confirmation is asked to resend the article(s) to eurau2016@uauim.ro but also to the section he/she belongs:
June 24 update:
Due to the numerous requests of postponing the full paper deadline, we announce that the new deadline is 10th July 2016 midnight (Bucharest time).
Please, be aware that this is also the deadline for registration payment for authors.
For those who are missing this deadline, too, you can still participate to the conference and present your paper (see below), but it will not be included in the Proceedings CD.
We strongly advise you to register and pay the registration fee as soon as possible (preferably before July 31st), in order to be included in the conference program.
Confirmed keynote speakers
Arch. Danilo Vespier, Associate at RPBW Genova - Renzo Piano Building Workshop Genova, most recently author of MUSE Museo delle Scienze, Trento, Italy - among the winners of the 2013 CasaClima Awards
Arch. Andrei Șerbescu, PhD, Lecturer at UAUIM, partner at ADN Arhitectura București, Shortlisted at Mies van der Rohe 2015 Prize and First prize "Milan Zlokovic" for Best Architectural achievement in the Balkan Region
About EURAU
The eighth edition of the European Symposium on Research in Architecture and Urban Design will be held from the 28th to the 30th of September 2016 in Bucharest.
The seminar will take place at the "Ion Mincu" University of Architecture and Urban Planning from Bucharest in collaboration with the institutions that organized the previous editions:
École Nationale Supérieure d'Architecture de Marseille, on doctoral research (2004);
École Nationale Supérieure d'Architecture et Paysage de Lille, on large scale (2005);
Association des Instituts Supérieurs Brussels-Liège-Mons (IESA), on cultural heritage (2006);
Escuela Superior de Arquitectura de la Universidad Politécnica de Madrid, under the theme cultural landscape (2008);
Facoltà di Architettura dell'Università degli Studi di Napoli Federico II, under the theme venustas (2010);
Faculdade de Arquitectura da Universidade do Porto, on public space and contemporary city (2012);
Faculty of Architecture of the Istanbul Technical University, on composite cities (2014).
The project EURAU is constituted within a network of schools and researchers in Architecture and Urbanism, meeting every two years to share the status of their investigation. In the long-term, it is intended to lead to the creation of a physical meeting and deposit space with all the research undertaken and ongoing in Europe to facilitate the sharing of resources and deepening of knowledge in these scientific areas.
The main concern of the EURAU is to establish itself as a place of debate and discussion of thematic disciplines of Architecture, City and Town Planning.
The theme of EURAU 2016 is "In Between Scales."
Important Dates
| | |
| --- | --- |
| December 2015 | Call for papers |
| January 15th, 2016 | Abstract and registration possible |
| April 15th, 2016 (included) | Abstract Submission Deadline |
| May 5th, 2016 | Notification of acceptance |
| June 30th, 2016 (included) | Deadline for Final Paper submission for the publication of the proceedings |
| June 30th, 2016 (included) | Registration Deadline for Authors |
| September 28th- 29th-30th 2016 | Conference dates |
| October 1st-2nd 2016 | Post-Conference Tours |
History
The EURAU project was initiated by the French Ministry of Culture, when, in 2004, it launched the proposal of an annual symposium for researchers dealing with Research in Architecture and Urbanism. The various editions were organized by different European schools of Architecture with a coordinated effort by a broad group of university professors and researchers.
The purpose of this initiative is to enable the confrontation between researchers concerned with the Architecture and the City on the European scene.
The acronym EURAU describes the congregation of the objectives which motivate these events: EU for "European Union", R for "Research", A for "Architecture" and U for "Urbanism".